ORIGINAL BODYWORK COLOUR CHART

6 main colours were available, although certain cars were delivered in Wedgwood blue.


NB: It is also probable, but not certain, that all the colour combinations (bodywork and interior) of the Triumph colour chart of the era were offered to clients (in particular for the TR5s assembled in Belgium-CKD). Black was available on the TR250.

ORIGINAL INTERIOR COLOUR CHART
5 shades were available: black, tan (light tan), red (Matador red), blue (Shadow blue) and a second blue (Midnight blue). Please find below these shades combined with the bodywork colours as they were sold.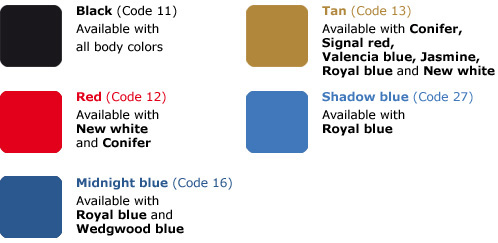 NB: The material used for the upholstery was Ambla (Skaï) with perforated seat and back. Leather was also available but rarely ordered.
COLOURS OF THE HOODS, HARD TOP – SURREY AND HOOD COVER
The hoods were mainly black, white was also available. The hood covers were matched with the colour of the hood or bodywork. The hard top was available in black, white or body colour. The canvas (Surrey) was available in black or white only.
COLOUR CODES FOR TRIUMPH PAINTS (Ref. ICI and PPG)
The references below come from several sources, and we can't guarantee their accuracy 100%. To avoid any unpleasant surprises contact a professional to validate the colour you want before painting. Don't hesitate to ask for a sample of the colour chosen.
Triumph Racing Green/Conifer

(25) : ref. ICI 3736 -

ref. PPG

43232
Royal blue
(56) : ref. ICI
4665 -
ref. PPG
13126
Valencia blue
(66) : ref. ICI
6898 -
ref. PPG
13547
Wedgwood blue
(26) : ref. ICI
5814 -
ref. PPG
12873
Jasmine yellow
(34) : ref. ICI
5520 -
ref. PPG
81686
New white
(19) : ref. ICI
3738 -
ref. PPG
8380
Signal red
(32) : ref. ICI
2829 -
ref. PPG
70966