A certain number of options and accessories were available at the time.
The hard top was fitted in the factory and delivered only on new cars (coupe version). It was, however, possible to fit it afterwards. It consisted of a rear part with a window and a central panel in canvas, and was available in black, white or the colour of the bodywork. The central part was also available (alone) as an accessory. During the summer, the steel roof could be replaced by a canvas top know as a Surrey (sold in addition to the hard top), and was very useful in case of a sudden shower!

While the name Surrey was given exclusively to this canvas top, today the name has been extended to all the hard tops. The canvas was stretched over a folding metal frame, and was available in black or white.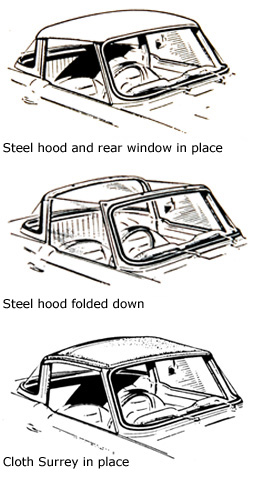 Available for the rear window of the Surrey hard top.
Electric windscreen defroster
Overdrive
The Laycock and Norman overdrive operated on the last three gears.
Spoked wheels
60 spokes with octagonal nuts.
Door wing mirror
It was mounted on the passenger's side in symmetry with the driver's.

Part no. 622352.
Safety belts
2 or 3 mounting points, lap/diagonal type.
Oil radiator
Part no. 308367.
Sump guard
It was fitted under the radiator and the oil sump.
Continental breakdown kit
It included a certain number of parts: cylinder head gasket, fan belt, plugs, a set of hoses, ignition cap and lever, set of points, water pump gasket, petrol pump diaphragm, pipes, oil and fuel lines, inlet and exhaust valves, set of valve springs, rocker arm cover gasket and a set of spare bulbs.
Radio
Switches or standard.
Hood cover
Black or white.
Leather upholstery
XAS Michelin radial tyres
Paint for retouching
Illustrations : Triumph - D.R.