HISTORY


The TR5 PI was officially unveiled on 3rd October 1967 in a bid to compete against rivals like the MGC, Austin Healey 3000 etc, which were becoming increasingly competitive in terms of performance.  

It replaced the TR4 that had come out in 1962 (then updated to TR4 A IRS in 1965) and used the majority of its components. In fact, it is hard to tell a TR5 PI from a TR4 A IRS at first glance as there are so few aesthetic differences between them. Apart from a few details (see section TR4 vs TR5) they are like clones. 

The major change was under the bonnet: a 2498 cc straight-6 engine fed by Lucas mechanical injection putting out some 150 cv DIN (165 cv SAE). The rustic 4-cylinder engine powering the TR4 only developed 104 cv DIN.


The TR5 was produced between August 1967 and September 1968 and only 2947 cars rolled off the production lines making it one of the rarest TRs. 

It was replaced by the TR6 PI at the start of 1969, which had been restyled by the German company Karmann to fit the fashion criteria of the early 70s. 

Note: The TR5 PI (petrol-injection), designed by Giovanni Michelotti, was the first series production British sports car fitted with petrol injection.

For the American market the TR5 was called the TR250 and its injection system was replaced by carburettors to comply with anti-pollution standards. This effectively cancelled all the advantages of injection and it lost around 50 bhp!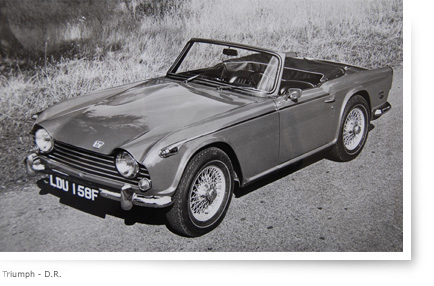 KEY FIGURES   

150: maximum power in CV DIN  

200 km/h: official top speed 

1 034 kgs in running order

1967: start of production in August and official launch on 3rd October

1968: production ended in September

1969: it was replaced by the TR6 in January

Cubic capacity: 2.498 ccs, 6 cylinders

Number produced: 2947

Price: 20 000 Francs (at the time)


Production figures

1967: 150 cars were produced (25+125 for export)

1968: 2797 cars were produced (1136 + 1661 for export)

ATTENTION: some sources give the figures 585 models in 1967 and 2362 cars in 1968. The first TR5 in 1968 was given the series production number CP586.